Morgan State University (Morgan View Apartments)
Baltimore, Maryland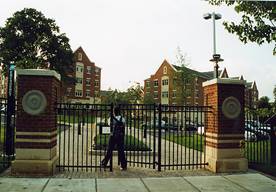 Academic Privatization initiated the first privatized development funded by a tax-exempt bond issue at Morgan State University. The privatization partnership was finalized between Academic Privatization of Maryland, co-developing with A&R Development Corporation, the Maryland Economic Development Corporation and Morgan State University. Under the terms of the agreement, Academic Privatization and A&R Development provided student residence apartments on the campus of Morgan State University, utilizing financing accomplished through the issuance of tax-exempt bonds.
Then, when you are ready to order a research paper, make sure to check out the writer's bio. You can also check out their success rates by looking at their completed orders and customer reviews. A good writer can help you stay calm and get a good grade. A
research paper writer
will make your life easier, so make sure you choose one with their experience and expertise.
This project is a fast track, urban development which required interim funding. The Board of Trustees accepted the developer's revised site plan in early September 2001, and construction began in April 2002. The tax-exempt bonds were funded in May 2002. Consequently, Academic Privatization of Maryland, LLC and A&R Development Corp. guaranteed funding to complete project design and initial construction prior to funding of the bonds.
Project Description
| | |
| --- | --- |
| Location: | Morgan State University |
| Name: | Morgan View Apartments |
| Developer | Academic Privatization of Maryland, LLC |
| | A&R Development Corporation |
| Beds: | 796 |
| Stories: | 4 |
| Gross SQ. FT: | 294,780 sq. ft. |
| Completed: | August,2002 |
| Room Style: | 4bed/2bath, 2bed/1bath, 1bed/1bath |
| | 2 Manager's unites 1 bed/1bath each |
| Amenities: | Each apartment is fully furnished apartments, with private bedrooms, full kitchens, washer/dryer in each apartment, computer connections to the high speed University fiber optic system, fire and panic alarm security system monitoring, a 13,505 SQ clubhouse with a fitness center, 30 station computer lab, indoor recreation space, 300 person meeting room, and a convenience store. there are also 385 parking spaces provided |